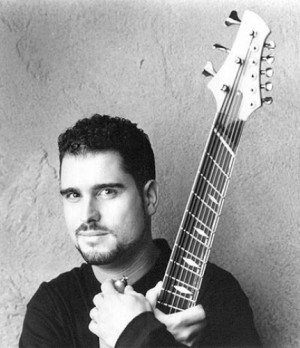 Charlie Hunter: An Inspiration for Anyone Inspired to Play Jazz on an 8 String Guitar
Although most 8 string guitar playing is associated with the genre of metal, the Charlie Hunter guitar style proves that this guitar has an iconic place in jazz. Over the course of about 20 years, Hunter has proven that he is a skilled musician capable of magic on the eight string guitar.
Early Years
Charlie Hunter was born on May 23rd, 1967 in Rhode Island, but moved to Berkeley, California with his family at the age of four. He went on to attend Berkeley High School and, just like Steve Vai, began to take guitar lessons from Joe Satriani. Surprisingly, Hunter was actually not accepted to play in the Berkeley High jazz band but that didn't stop his musical journey. Despite having the desire to get into several musical programs after high school, Hunter has stated that he did not have the grades or the money to do so. Instead, Hunter took a high school friend up on an offer to go and live in Paris for a month. Because the offer only stood for a month, Hunter was forced to live on the streets and in the subway for a time and made ends meat by busking for 8 to 12 hours a day – this was a period that Hunter refers to as "on the job training." It forced him to play on the streets and to try and grab people's attention whenever possible. This created an intensity in his playing that can only come from the real-life lessons that schools cannot teach. Ironically, none of the music Hunter played on the streets included jazz because it did not make any money for street musicians – once the singing stopped, so did the tips. Also, because Hunter was the new guy in town, he was relegated to playing the bass because no one else wanted to at that point.
Hard Work Pays Off
After returning from Paris, Charlie Hunter found his way into Michael Franti's band called The Disposable Heroes of Hiphoprisy where he played the 7 string guitar. Shortly thereafter, this group was featured as an opening act for U2's Zoo TV Tour. In 1993, Hunter released his debut album called Charlie Hunter Trio. As the name implies, the group featured 3 musicians: of course, Charlie played the guitar, but he was joined by Jay Lane on the drums and John Ellis on the saxophone. Never one to be content, Hunter has had a prolific career as both a band leader and contributor to other band leaders' projects. Some of the projects that Hunter founded include the following: Charlie Hunter Trio (1993), Bing, Bing, Bing! (1995), Ready…Set…Shango! (1996), Natty Dread (1997), Return of the Candyman (1998), Duo (1999), Charlie Hunter (2000), Solo Eight-String Guitar (2000), Songs from the Analog Playground (2001), Right Now Move (2003), Friends Seen and Unseen (2004), Steady Groovin' (2005), Copperpolis (2006), Gentlemen, I Neglected To Inform You You Will Not Be Getting Paid (2009), Public Domain (2010), and Now Getting Behind is the New Getting Ahead (2012). Now that's quite the list of projects – don't expect him to take a break anytime soon!
In addition to his own projects, he has been featured on the following albums: Hypocrisy Is the Greatest Luxury (1992), Spare Ass Annie and Other Tales (1993), T.J. Kirk (1994), If Four Was One (1996), All Kooked Out! (1998), Mysteryfunk (1999), Voodoo (200), Emphasizer (2003), Come in Red Dog (2003), Latitude (2004), Longitude (2005), Outre Mer (2005), Earth Tones (2005), Talking Only Makes it Worse (2005), The Coalition of the Willing (2006), Live at Tonic (2006), Copperopolis (2006), Mistico (2007), Altitude (2007), Continuum (2007), Baboon Strength (2008), Fade (2008), Go Home (2009), Not Getting Behind Is The New Getting Ahead (2012), Channel Orange (2012), Pucker (2013).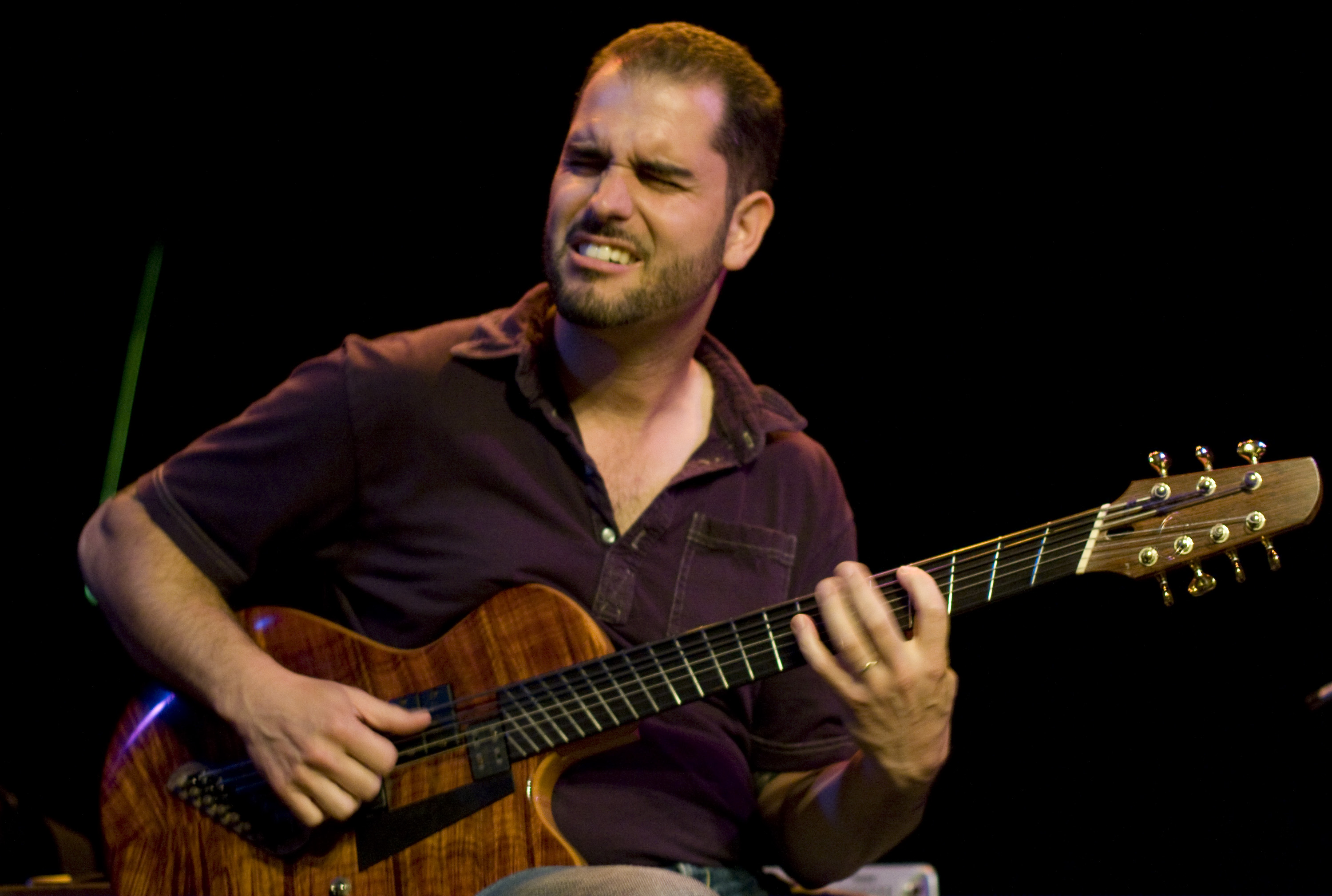 Praise for Charlie Hunter
With his incredible guitar skills, it should come as no surprise that he has received some incredible praise:
♦ Allmusic music critic Sean Westergaard wrote that his playing is "mind-boggling" and that he is an "agile improviser with an ear for great tone" who strives to "make great music, not show off."
♦ Adam Joseph with the Monterey County Weekly had this to say: "Hunter plays custom-made seven – and eight-string guitars that enable him to simultaneously rock the rhythm, bassline and lead; he's released more than 20 records and is considered by jazz critics to be one of the most technically fluent modern-day jazz guitarists working."
♦ Richard Scheinin with Mercury News stated the following about Hunter: "Hunter has stitched what sounds like a half-forgotten '30s pop tune into the middle of his composition. He has a puzzle brain; it all works." "Spinning new melodies throughout his white-hot and twisty solo, Hunter turned an unexpected corner — and Amendola hit one of his bullet-rhythm rimshots (Tito Puente!) at the precise instant that Hunter made his turn. What can you say? After two decades, these two are telepathic, into one another's moves." "This was a very boiled down performance by the guitarist, except for one short stretch when he wound up improvising what seemed like half a dozen melodic lines in counterpoint. That puzzle brain, again."
♦ Doug Collette review in GlideMagazine.com: "Charlie Hunter has certainly proved he's his own man during the course of a career that's found him working as parts of solos, duos, quartets, quintets and larger ensembles both as frontman/bandleader and collaborative participant. He is comfortable with himself to the extent his self-description as a 'boutique' artist sounds both pragmatic and proud."
♦ Jim Fussili review in The Wall Street Journal: " Earlier in his solo career, when he was signed to Blue Note, Mr. Hunter played bass on the top strings and chords on the bottom of a curiously tuned eight-string guitar, using effects pedals and an amplifier he cobbled together to approximate the output of an electric organ. A sly wit and facility rather than flash became the hallmarks of his style, and there was a quiet wizardry at work in his bands' unison playing and how well he supported their saxophones. At times, Mr. Hunter faded into the background on his own satisfying recordings."
Charlie Hunter Guitar Playing in Action!
Charlie Hunter guitar style on the 8 string guitar – bass, rhythm, and lead all at once!
Charlie Hunter performing, "Just a Closer Walk with Thee" on the eight string!
Covering Jimi Hendrix's "If 6 was 9"!
 Charlie Hunter demonstrating blues guitar on a 7 string!
For more information on Charlie Hunter such as tour dates and relevant news, be sure to check out his official site at www.charliehunter.com.
Check out the other 7 and 8 string guitar pages on this site if the Charlie Hunter guitar story has inspired you to learn more about these unique guitars!