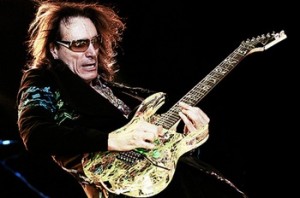 Introduction
There are literally thousands of sites that discuss Steve Vai's career in general, but the focus of this post is to delve into Vai's 7 string guitar journey and to take a look at the guitar that made it all possible – his Ibanez Universe! However, even a specific post like this needs to examine a bit of Vai's history to understand how he came to be one of the most notable seven string guitarists around.
Steve Vai's Journey to Ibanez 7 String Stardom
Vai's guitar journey began in 1973 when he, like many other young aspiring guitarists, became influenced by Led Zeppelin. After being bitten by the guitar bug, Vai decided to take guitar lessons and received his instruction from none other than Joe Satriani. After working on his chops for several years, Vai attended the presitigious Berklee College of Music and later became a guitar solo transcriber for Frank Zappa. It wasn't long before Zappa noticed Vai's talent and made him an official member of Zappa's band.
After his time with Frank Zappa's band, Vai went on to record his own album titled Flex-Able in 1983, and for the next two years would play with several other bands as well. In 1985, Vai made headlines when he joined David Lee Roth's band called Eat 'em and Smile Band and had reached number four on the Billboard 200 Album Chart. The band then toured the world from 1986 until 1987. Although the band's second release titled Skyscraper in 1988 reached number 6 on the Billboard 200 Albums Chart, the band members began to voice their differences and Vai finally left the group for good in 1989.
Vai went on to have a very busy 1990's and 2000's period that included playing with the band Whitesnake, recording with Alice Cooper on Cooper's album titled "Hey Stoopid," touring with his his supergroup called G3 that included his one-time teacher, Joe Satriani, recording with Ozzy Osbourne, appearing on the Dream Theater album called Systematic Chaos, and headlining the "Experience Hendrix Tour" with many other well known blues musicians.
The Creation of the Ibanez Universe
In 1990, Vai designed the 7 string Ibanez Universe guitar that will forever be associated with him. This guitar featured DiMarzio Blaze II pickups with an HSH arrangement. Later, Ibanez would introduce the UV777GR which was a new Universe guitar based on the 7 string Loch Ness Green Jem. As the years continued, things began to change and the Universe 7 string guitars were removed from production in 1995. Fortunately, fans did not have to be without the Universe for long because it was brought back into production by popular demand in 1996.

If a picture is worth a thousand words, then a live performance is surely worth even more. Below are some videos that demonstrate Vai's 7 string guitar prowess as well as provide more information about the Ibanez 7 string.
Vai discussing the Ibanez Universe (UV77) 20th Edition Reissue:
Steve Vai demonstrating some of the things he likes to do with his Ibanez Universe:
Vai talking about his Ibanez guitar and the creation of his signature 7 string guitar:
And finally, Vai performing "Weeping China Doll"!